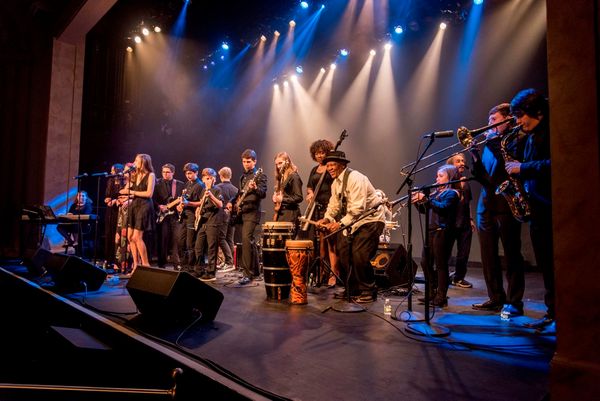 East End Arts Music Masters Mentorship Program employs master performers and composers in rock music, jazz, world music and classical music to mentor small groups of talented high school students from across Long Island school districts. Through one-on-one learning opportunities with master musicians, the students are given training in rehearsal and performance skills, in addition to recording, marketing, composition and songwriting. They leave with life-long relationships and friendships, as well as portfolio materials to assist them in future endeavors, including their pursuit of post-graduate education.

Music Masters Timeline:
Applications Open: December 6, 2021
Application Deadline: February 8, 2022
Final Notice of Applicant Acceptance: February 11, 2022
Rehearsal Dates:
Friday, March 4, 2021, 4:00 p.m. to 7:00 p.m.
Friday, March 11, 2021, 4:00 p.m. to 7:00 p.m.
Friday, March 18, 2021, 4:00 p.m. to 7:00 p.m.
Friday, March 25, 2021, 4:00 p.m. to 7:00 p.m.
Friday, April 1, 2021, 4:00 p.m. to 7:00 p.m.
Final Show: April 8, 2022 • Hotel Indigo, Riverhead • 6 p.m. - 8:30 p.m.
---

East End Arts Music Masters Mentorship Program is sponsored by Olivia and Harlan Fischer.
2022 Music Master Mentors: Richard Iacona & Madeline Kole
Power-team duo: composer and conductor, Richard Iacona and jazz vocalist and bassist, Madeline Kole
Richard Iacona - Piano 
Adjunct Professor of Music Theory, Jazz Piano, and the American Popular Song
B.S., University of North Carolina at PembrokeM.A., Long Island University
Specialties
• Arranger/composer/conductor/pianist
Publications
• "Dona Nobis Pacem" – original composition and choir arrangement for SATB. Carl Fisher Publications
• "Simple Gifts" – choral arrangement for SATB. Carl Fisher Publications
• Jazz Ensemble Arrangements – Arranger/Composer
  Published by Smart Chart Music, Smithtown, NY. Distibuted by CL Barnhouse Publications
      • "Funky Scrooge"
      • "2 Hip 2 B Blues"
      • "Sin Palabras"
      • "Brazilian Vacation"
• Composed Theme Song for hit TV show 12 Corazones on Telemundo Network
• Arranged and Conducted worldwide commercial for Dove Soap/Lever Bros. "I'm Forever Blowing Bubbles"
Lectures and Presentations
• "Riding The Rainbow" – performance and lecture on the lyrics of  Edgar "Yip" Harburg. Celebration of the American Jewish Songwriter – Hillwood Theater 2011
Recordings
• "Only You" – Tri Star Pictures starring Marisa Tomei and Robert Downey Jr. Source music utilized. (Slo-Gin Fizz - Swing City)
• "Sugar Hill" – 20th century Fox Motion Picture. starring Wesley Snipes. Horn Arrangement for Chaka Kahn performing "Miles Blowin" featuring Terrence Blanchard
• "These Are Special Times" – Sony Records and Tapes 1998. Orchestrator for Celine Dion recording of "Feliz Navidad"
• "A  Long Way To Go" Big Band Recording. Arranger, Composer, Conductor, Producer. Morningside Music, Amityville, NY
• "Painter of Dreams" – Big Band Recording. Arranger, Composer, Conductor, Producer. Morningside Music, Amityville, NY
• "Kole Sings Cole" – Madeline Kole, Artist. Arranger, Composer, Conductor, Co-Producer. Kama Disc Records and Tapes, Port Washington, NY
• "Naturally" – John Pizzerelli Jr. Artist. Arranger, Conductor "You Stepped Out of a Dream" RCA Novus Records
• "Rain In June" – Ray Alexander Artist. Arranger, Conductor. Nerus Records and Tapes, Bayside, N.Y. 11364
• "Beautiful Dancer" – Gerard Carelli Artist – Arranger, Conductor,Co-Producer. GC Records and Tapes
• "Hey Man Merry Christmas" – John Signorella. Artist – Arranger, Conductor, Contractor – Brown Dog Records
• "Arlen Plays Arlen" (the music of Harold Arlen) – Sam Arlen. Artist – Arranger, Conductor, Contractor – JoSam Records
• "Doncha' Go Away Mad" – Madeline Kole Artist - Arranger, Pianist, Conductor, Producer Morningside Music: 87 Wood Ave Amityville, N.Y. 11701
• "Let's See What Happens" – Music of Burton Lane – Kate Baldwin artist – Pianist, PS Classics Discs
Performances
• Free Lance Pianist, Arranger, Composer and Conductor. Arranger/Conductor with Julius LaRosa, Toni Arden, Fran Jeffries, Gerard Carelli, Marilyn Michaels, Claiborne Cary, John Pizzerelli Jr. Madeline Kole, Peter Lemongello, Ray Alexander , and many others.
• Performed with Kate Baldwin, Charles Aznevour, Marvin Stamm and the Norfolk Symphony orchestra, Tommy Tune, Julie Budd, Scott Record, Les DeMerle, Urbie Green, Clark Terry, Jerome Richardson, George Shearing, Liza Minelli, Diahan Caroll, Vic Damone, Leslie Uggams, Marlo Thomas, Phil Donahue, Clint Holmes, Elizabeth Taylor, Hugh O'Brien, Bill Cosby, Peter Noone, Darlene Love, Chuck Jackson, Kathy Lee Gifford, Marvin Stamm and the Norwalk Symphony
•Faculty member - Interplay Summer Jazz Workshop Camp, Woodstock, Vermont
•Staff - Arranger for The Rainbow Room Orchestra Rockefeller Center N.Y.C.
•Staff Composer/Arranger Omni Music Library. Omni projects and jingles include various music for: K-Mart, Telemudo and Univision Cable networks, Saturday Night Live, Heileman Breweries Inc., World Book, Sears Dept. Stores, Acura Motors, Theme song for 12 Corazones, Lever Bros, Folgers Coffee, the USA Cable Network and various Radio and Television spots both in the USA and Europe.  Some of his major works are available and published by Carl Fisher, Omni Music Inc., and Smart Chart Music.
•Leader of "The Bad Little Big Band" since 1979. 
• Member of ASCAP, and Local #802 American Federation of Musicians.
• Appeared and performed in motion pictures- Woody Allen's "Mighty Aphrodite","Celebrity" and "It Could Happen To You"
Films
• Appeared and performed in Woody Allen's films:  "Mighty Aphrodite", "Celebrity", and "It Could Happen To You
• Performed pre-records and rhythm tracks for motion picture "Sabrina"
Professional Affiliations
• Member Local 802 American Federation of Musicians
•Member of ASCAP
Madeline Kole - BASSIST/VOCALIST 
Jazz vocalist and freelance jazz bassist performing throughout the N.Y.C. area since 1976. Her vast vocal repertoire and her precise and poignant execution renders her a "singer supreme". As a solo vocalist she appears at all the major hotels in NYC. as well as resort areas throughout the U.S. 
Her musical tenure includes: The Jerry Kravat Orchestras, Jimmy Dorsey Orchestra, The Bad Little Big Band, Peter Duchin Orchestras, Lester Lanin Orchestras, and The Roy Gerson Ensemble, to mention a few. 
Vocal coach and mentor at Interplay Jazz and Arts – Woodstock Vermont 
Ms. Kole has appeared and performed with the following artists: Bobby Short, George Benson, Robert Klein, Pat Cooper, the Modernaires, Julie Budd, Bobby Rydell, George Burns, Ann Hampton Callaway, John Pizzarelli, Whoopi Goldberg and Tommy Tune. 
In addition, Madeline has been called on to perform for President William Clinton, Rudolph Giuliani, Donald Trump, David Dinkins, Hillary Clinton and many heads of state and world dignitaries. 
Ms. Kole is president of "You Can Sing New York," a thriving vocal studio teaching proper vocal techniques and focusing on the American Popular song. 
Ms Kole's recordings and jingles are heard daily throughout the USA and world-wide. Member of Local #802 American Federation of Musicians. 
---
A Look Back...
2021 Music Master: Kevin Kendrick
Award winning professional jazz and rock musician, DJ, film and television composer
Kevin Kendrick is an award winning professional jazz and rock musician, DJ, film and television composer, and teacher in the New York area with extensive experience touring, performing, and writing both abroad and at home. 
His film and TV scoring has been featured Sundance Channel, PBS and screened at the Berlin, Sundance, Toronto, Sarajevo, and West Hollywood International Film Festivals. When he isn't teaching at the School of Rock, he plays with a variety of New York groups at venues like The Capital Theater and Lincoln Center, and scores television and film. His vibraphone-fronted indie-pop creation, A Big Yes and a small no, has received very positive reviews from The Village Voice, Harp Magazine, AM NY, Pop Syndicate, Relix, Blurt, and Pop Matters. 
He began his music education at The Interlochen Arts Academy in Michigan, where he received his diploma in Music Performance, and received an award for outstanding Percussionist in Music in 1995. On a full merit based scholarship he attended the University of Colorado, where he received his BM in Music Performance. He traveled to England to study at the University of Bristol (Brisol England) and received his MA for Music Composition. He studied Jazz Improvisation and Chromatic Jazz Harmony with EMC recording artist, Art Lande and he did a three year private study at the Manhattan School of Music, on Harmony and Counterpoint with professor emeritus, Paul Caputo.
Personal Awards: 
Band of the Month, (A Big Yes and a small no), Deli Magazine, March, 2009, winner.
10 Best Albums of 2008, (A Big Yes and a small no), Popsyndicate.com. 
The 14th Most-Added Band to College Radio Playlists, (A Big Yes and a small no), College Music Journal, July 2008. 
Best New Release, (Fat Mama), The Jammy Awards, 2001, nominated. 
Best Live Album, (Fat Mama), The Jammy Awards, 2001, nominated. - Best New Band, (Fat Mama), The Jammy Awards, 2000, winner.
---
2020 Music Master Mentor: Dr. Thomas Manuel
Jazz historian, educator, musician, and founder/director of the Jazz Loft at Stonybrook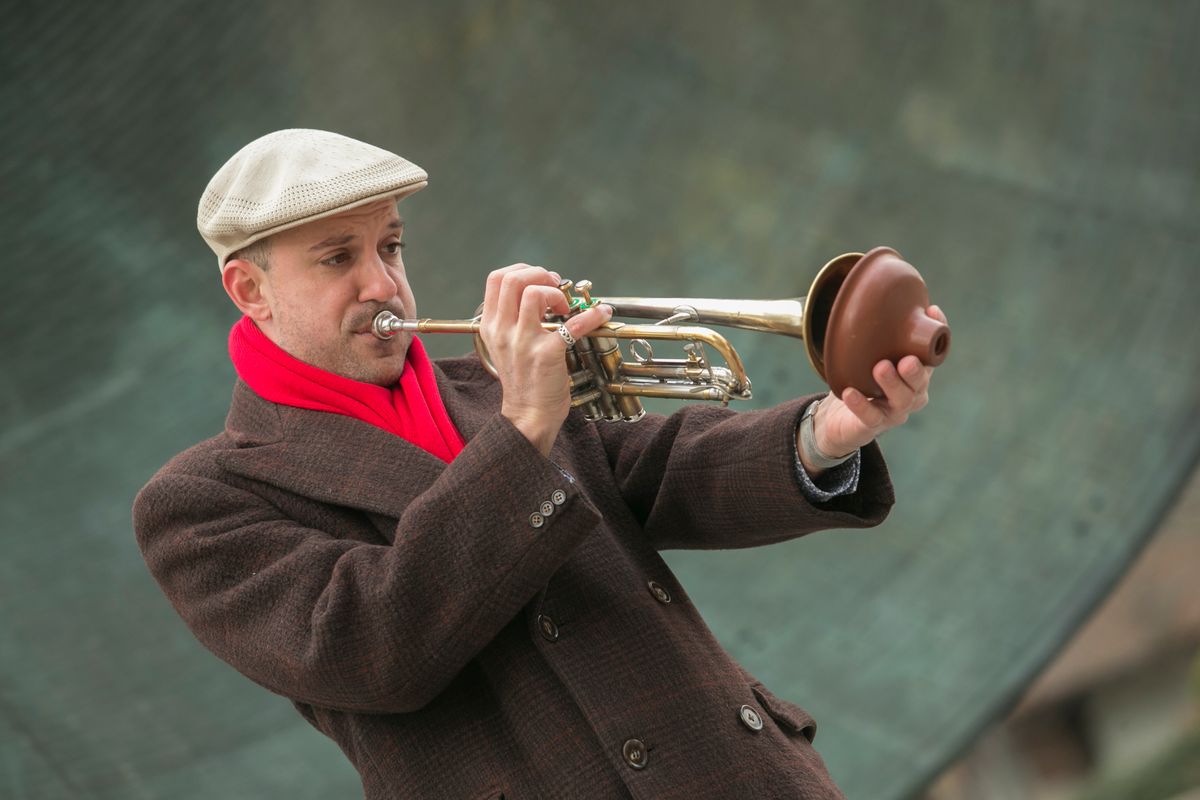 Jazz historian, music educator and trumpet player Dr. Thomas Manuel received his formal music training from Boston University and completed his DMA in Jazz Performance at Stony Brook University. His mentors included Warren Vache and Ray Anderson. As the recent recipient of an endowed Artist in Residence chair within the Jazz department at Stony Brook University, Manuel also holds a faculty position with the Stony Brook University Young Artist Program directing their jazz program in residence at the Jazz Loft. In addition to this he serves as a trustee to the Frank Melville Memorial Foundation and is also a member of the Huntington Arts Council Decentralization Advisory Committee. 
Manuel has been cited for his accomplishments by The New York Times, Downbeat Magazine, Newsday, Jazz Inside Magazine, Jazz Ed Magazine, and has been featured with his Big Band ensemble on radio, television, as well as several CD albums. Most recently Manuel established a music program for under privileged students in Port Au Prince Haiti and he was also honored as the guest speaker for the graduation ceremony for the Greater Vision Christian School in New Kru Town, just outside the capital city of Monrovia in Liberia, Africa. During his time there he established a music program for the school and was fortunate to direct the students in their first concert.
Manuel dedicates his professional efforts to both the preservation of Long Island's jazz history as well as presenting it to future generations. He has taught in the public school system for over a decade, on the collegiate level, and served for many years as a member of the Suffolk County Music Educators Association (SCMEA) Executive Board. In May 2016 Manuel officially opened The Jazz Loft in Stony Brook, NY. As its founder, curator and artistic director Manuel takes pride in this innovative and creative space which joins jazz performance, jazz preservation and jazz education in celebration of the past, present, and future. Manuel has received several honors for his dedication to the American born art form of Jazz including Stony Brook Universities 40 Under 40 Award, several Suffolk Country Proclamations and the 2016 Person of the Year in Brookhaven award from the Times Beacon Record. His most recent endeavor included an educational outreach to Havana, Cuba, collaborating with several top jazz artists, professors, producers and an independent film maker.
---

2019 Music Master Mentor: ELI YAMIN
jazz and blues pianist, singer and educator
Jazz Power Initiative co-founder/Artistic Director
Jazz at Lincoln Center, founding director of Middle School Jazz Academy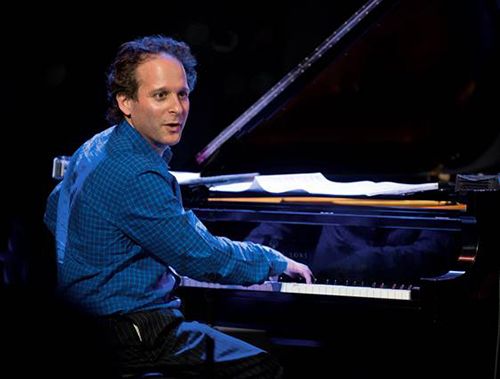 Eli Yamin, a Steinway artist, was born in East Patchogue, Long Island and has performed as a jazz and blues ambassador for the United States, in over 25 countries and in the U.S. at Lincoln Center, Carnegie Hall, the Kennedy Center and the White House. His recordings include You Can't Buy Swing with his jazz quartet; I Feel So Glad, with his blues band; Louie's Dream, dedicated to "our jazz heroes," with New Orleans-based clarinetist Evan Christopher, and Live In Burghausen with jazz icon, Illinois Jacquet. His three youth-centered musicals: Nora's Ark, Holding the Torch For Liberty and Message From Saturn, have been performed internationally in four languages and across the United States, bringing diverse communities together through jazz and blues to tell socially uplifting stories. Eli is the co-founder and Managing Artistic Director of the Jazz Power Initiative, a non profit organization that transforms lives through jazz arts education and founding director of Jazz at Lincoln Center's Middle School Jazz Academy. His book, So You Want to Sing the Blues, will be published this fall by Rowman and Littlefield in collaboration with the National Association of Teacher of Singing (NATS).
---
2018 Music Master Mentor:
BRADY RYMER
Three-time Grammy Award nominee, songwriter and performing musician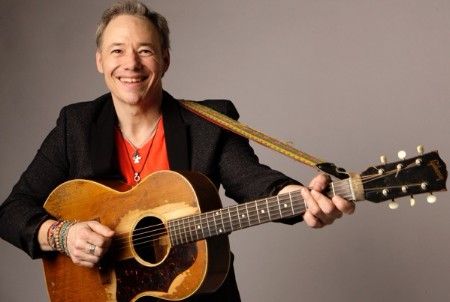 After a decade-long career with RCA Records jam band From Good Homes, recording and touring with acts from the Dave Matthews Band to Bob Dylan and Bob Weir's Ratdog, Brady Rymer ventured into family music as he started his own family, releasing Good Morning, Gus in 2000. Since then, he has released eight CDs, including 2017's GRAMMY-nominated Press Play, 2014's GRAMMY-nominated Just Say Hi! and the 2008 GRAMMY-nominated Here Comes Brady Rymer and the Little Band That Could. 
Rymer's rootsy, accordion-laced pop and rock music regularly wins critical acclaim and national awards including three Children's GRAMMY nominations as well as numerous Parents' Choice Gold and NAPPA (National Parenting Publications) Gold Awards, and has garnered him a growing fan base of enthusiastic families. Together with his longtime bandmates in the Little Band That Could -- outstanding players all, with backgrounds from Americana to Zydeco -- he performs rockin' live music for kids and families across the country at Performing Arts Centers, concert halls, clubs, outdoor festivals, schools and libraries.
When he's not playing with his own band, Brady plays bass guitar with the Laurie Berkner Band; he also performs a few select shows a year with band From Good Homes.
---
2017 Music Master Mentor:
BAKITHI KUMALO
international celebrity musician, longtime bass player for Paul Simon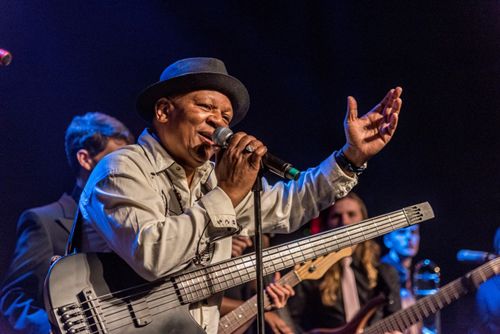 Music Masters Mentorship Concert with Bakithi Kumalo & David Bravo, held on February 11, 2017 at Westhampton Beach Performing Arts Center
Thank you to David Bravo and his family for recording and producing this video!

CHECK OUT this video about the program with Bakithi Kumalo recorded and produced by Randee Daddona at Newsday!
Published Monday, February 6, 2017

AND this video by Krysten Massa from Riverhead News-Review / northforker about the program with Bakithi Kumalo!
Published Thursday, January 12, 2017
Bakithi Kumalo is a South African bassist, composer and vocalist who has worked with a wide variety of diverse artists including Gloria Estefan, Herbie Hancock, Chaka Khan, Harry Belafonte, Cyndi Lauper, and Paul Simon. He has been active as well as a solo artist, with four albums to his credit – 1998's San'Bonan, 2000's In Front of My Eyes, 2008's Transmigration, and 2011's Change – as well as three award-winning children's albums recorded with his wife, vocalist Robbi Kumalo. Kumalo's bass-playing history began in Soweto where he grew up surrounded by music. "I picked up the bass early and realized I could follow the groove of a tune with it. I could play the bass lines from a cappella music, and I learned how to develop lines based on the left-hand work of accordion players in the township bands."
---
2015 Music Master Mentor:
ANASTASIA RENÉ
professional vocalist
On December 1, 2015, East End Arts 2015 Music Masters Mentorship program student vocalists performed their show-stopping final concert, led by program mentor professional soul and R&B vocalist Anastasia René with her piano accompanist Mark Mancini at the Suffolk Theater on December 1, 2015. Suffolk Theater's talent management was so impressed that they asked the group back to perform with The Rascals two weeks later at their concert on December 19, 2015, and again this year, a select group of East End Arts student vocalists have been invited for the once-in-a-lifetime opportunity to perform with this hit band!
---
CHECK OUT this great article about the program in Newsday!
LI Life Section | Sunday, November 17, 2013

Music Masters String Ensemble Fellowship, Fall 2013
Mentored by Professional Cellist and Conductor Nico Olarte-Hayes
click images to read
Newsday Article 11/17/2013, Page 1

Newsday Article 11/17/2013, Page 2
---
The second program, which took place in Spring 2012, was mentored by singer/songwriter Lauren Kinhan of New York Voices and JaLaLa, who led a jazz vocal choir.

Pictured here: 2012 Music Masters Fellowship performing at the 10th Annual Teeny Awards Ceremony in June 2012

The successful 2011 pilot program featured Corky Laing, drummer and songwriter from "Mountain," and "West, Bruce & Laing" who coached and rehearsed the students on a weekly basis, preparing them for two high-profile public performances in local festivals and co-produced their CD recording session.

Pictured here: 2011 Music Masters Fellowship at the Community Mosaic Street Painting Festival
Video from the 2011 Music Masters Fellowship program - the group decided to give a sample of their talent at East End Arts Community Mosaic Street Painting Festival!


For more information, contact the East End Arts School: 631-369-2171 or education@eastendarts.org