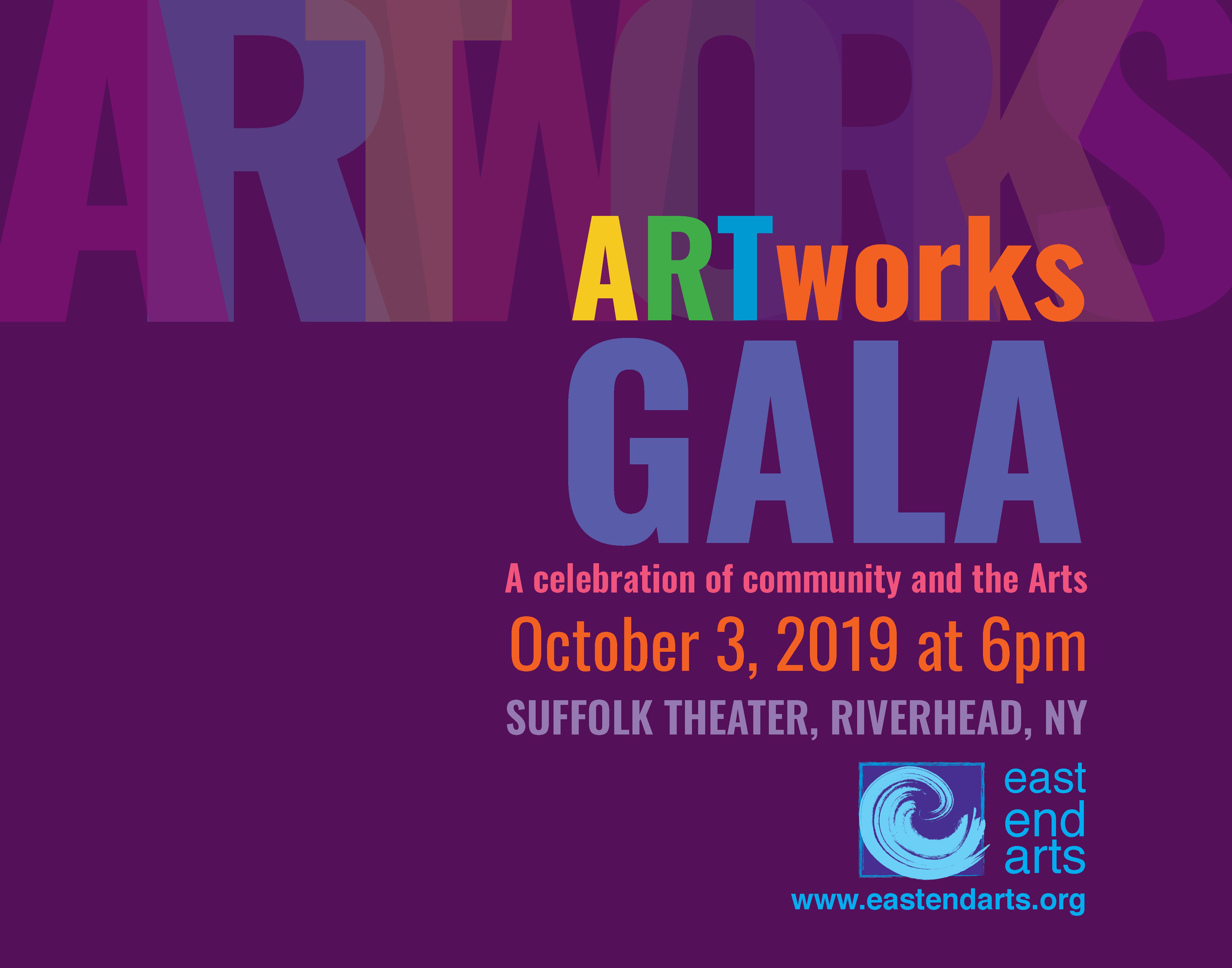 Thursday, October 3, 2019
At the Suffolk Theater
118 E Main St, Riverhead, NY
click here for Google Maps directions >>

Festivities include:
• Cocktails & Hors d'oeuvres
• Dinner & Dancing
• Live & Silent Auctions
Festive Attire
---
2019 ARTworks Gala Photos
---
2019 Honorees
Community Impact Award Recipients
John McLane - President, East End Arts
Tom Terry - Partner, Markowitz, Fenelon & Bank
Excellence in the Arts Award Recipients
Glen Hansen - DETOUR Exhibit Curator & Artist
Adam Straus - DETOUR Exhibit Artist
Proceeds from this fundraising event support our mission to have a vibrant arts community on the East End that enhances individual and professional artistic development, stimulates community enrichment, economic development, and cultural tourism while encouraging a wide range of artistic expression through education, exhibition and performance, and collaboration across the community.
---
TICKETS & SPONSORSHIP
click here to purchase tickets and / or to be a sponsor >>
The deadline for sponsors to be included in the printed invitation is August 9, 2019.
Ticket sales will close Thursday, September 26, 2019.
For more information about tickets and/or sponsorship opportunities, contact:
Diane Burke: dburke@eastendarts.org or 631-727-0900 x304
Leslie Pechman Koch: lesliek@longpointgroup.com
---
Click Above for More Info

ARTworks 2019 Auctioneer: Nicholas Dawes

Nicholas Dawes is senior vice president of Special Collections for Heritage Auctions in New York, and chairman and CEO of Salmagundi, New York's oldest artists' club, founded in 1871. He has over 35 years of experience as an international antiques dealer, auction director, writer, lecturer, and charity auctioneer. He was educated in England and began his career there before moving to the United States in 1979.

A seasoned generalist, Mr. Dawes has several areas of specialty and is considered this country's leading authority on works by René Lalique. His published books include Lalique Glass, a standard work published by Crown in 1986; Majolica, a reference work on Victorian Majolica (1989), with Judith Miller; Art Deco, a comprehensive guide published in 2005; and, with Michael Furman, Bespoke Mascots, a treatise on automobile mascots published in 2014 .Mr. Dawes is a former specialist and auctioneer with Phillips, where he headed the European Ceramics, Asian and 20th Century departments in the 1980s, and a former vice president and auctioneer with Sotheby's, where he had special responsibility for appraising the estate of Betsey Whitney in the 1990s.

Mr. Dawes is a frequent lecturer on a wide variety of topics and has been a faculty member of Parsons School of Design in New York since 1984, where he teaches Business Communication and Appraisal courses. He has been an expert appraiser for ANTIQUES ROADSHOW since the first season.
---
Special Thanks to our 2019 ARTworks Gala Sponsors!
Salon Artist
The Corey Foundation
The Simmons Point Group of Janney Montgomery Scott, LLC.
Master Artist
Pat and Tom Cruso
Producer
Markowitz, Fenelon & Bank, LLP
Director
American Portfolios
Campolo, Middleton and McCormick, LLP
Conifer Realty LLC
Eastern Long Island Hospital
Eileen McGuire and John McLane
Marcia and Robert Hefter
Hotel Indigo East End
Jesse Wong and Scott Bennett
Peconic Bay Medical Center
Riverhead Building Supply
Sweezy Fuel Company, Inc.
Benefit Committee
Anita and Chris Nigrel
Eileen McGuire and John McLane
Fred Cohen
Linda and Edward Pennfield
Lorrie and Harold Gordon
Nada and Jim Greenfield
People's United Bank
Richmond Realty

as of July, 2019
---
East End Arts is qualified by the IRS to receive contributions that are deductible for Federal income tax purposes. This charitable organization is registered by the Attorney General of the State of New York. The latest annual report can be obtained from the organization or from the office of the Attorney General by writing the Charities Bureau, 120 Broadway, New York, NY 10271. Registration does not imply endorsement. The tax-deductible portion of each dinner ticket used is $110. (Updated 3/2017 for Gala 2017)
---